You've just learned the Spanish word for Unicorn.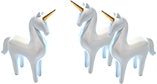 A group of unicorns is called a blessing.

The unicorn is the national animal of Scotland.
Unicorn means
"one-horn."
A baby unicorn is called
a sparkle.
(You can never have enough unicorns.)
More First Class Executive Coaches
As part of our commitment to excellence we've made it a point to seek out and collect amazingly talented partners that we trust to deliver exceptional leadership experiences.Through our own network, and Morag's membership of 100 Coaches, we have access to a curated global network of the world's most experienced executive and leadership coaches and advisors.
We will present you with the best coaches for you. Guaranteed.