Programs that empower your leaders and teams to build winning relationships
Available in-person or virtually Chief Human Resources Officer, BJU
Cultivate
Winning
Relationships
Based on the book Cultivate: The Power of Winning Relationships
Available In-Person or Virtually
Equip your employees to contribute to the success of the organization through the power of winning relationships. This engaging workshop clarifies the rules of engagement across teams and provides a foundational understanding of professional relationships so they can begin to cultivate a network of Allies.
Your leaders and team will learn to:
Attendees will experience an instantly applicable shift in their ability to: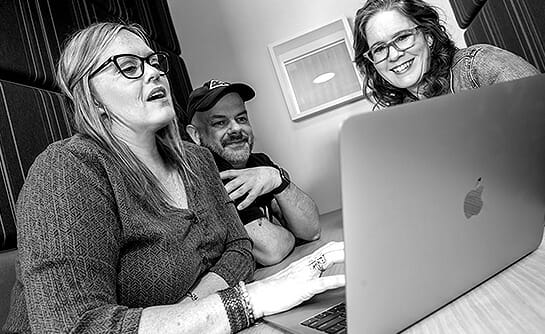 The Key to Establishing Relationships that Ensure Success
Based on the book You, Me, We: Why We All Need a Friend at Work (and How to Show Up As One!)
Available In-Person or Virtually
This highly actionable workshop teaches your audience the skills and practices needed to develop an Ally MindsetTM. They'll learn how to show up as an Ally for themselves and for others, building long-lasting relationships and improving performance and collaboration throughout your organization.
Your leaders and team will learn to:
Employees will experience an instant shift in their ability to:

"I learned so much from the Ally Mindset workshop and now appreciate that how I show up impacts my leadership reputation at work. In my team, we now use the word "ally." We, as colleagues, seem to be better able to support each other and have strengthened our team."
VP Operations
Technology Company
"SkyeTeam conducted a webinar focused on how to best lead yourself and your team in the virtual world with a focus on relationships. Their virtual presence, command of the subject matter, presentation skills, and ability to connect with a virtual audience made this webinar absolutely exceptional."
Global Fortune 250 CIO and CEO/Principal
Knight Insights

Ready to Build Better Relationships in Your Organization?
A member of our fantastic (Skye)Team will partner with you to facilitate these workshops for your organization. We are committed to your success, and will take the time to discuss your goals to ensure we are aligned before we begin.
Everyone wins when your organization continually develops leaders who can build powerful, transformative relationships. We can certify a facilitator from within your organization to deliver one or both workshops.

How's Your
Ally Mindset™?
Explore your Ally Mindset™ profile with our compliments (how's that for abundance & generosity?). Your free profile will identify your strengths and growth opportunities in the five essential practices of an Ally Mindset™ so you can better apply concepts from the book to your life and career.